When:
July 16, 2014 @ 1:00 pm – 2:00 pm
Contact:
Chris Balbach
(607) 327-1647
E-mail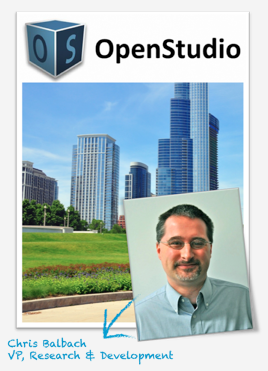 PSD is offering this webinar to raise awareness of the suite of tools available with OpenStudio. The webinar will be led by PSD's Vice President of Research and Development, Chris Balbach.
Features that will be covered:
How OpenStudio can be used to support PON 1601 New Construction Program activities
Rapid creation and zoning of a building using the OpenStudio SketchUp plugin
Rapid assignment of components to the building using the Building Component Library, including ASHRAE 90.1-2007 performance standards
Using OpenStudio Measures to modify a building

NREL BCL Measure Library – Public Domain

OpenStudio Measures (ASHRAE Advanced Energy Design Guides)
EnergyPlus Measures
Reporting Period Measures

Customized Measures

Using the Parametric Analysis Tool to design and execute simulation studies, incorporating energy cost savings and LCCA feedback
Viewing output (summary and detailed)
Generating Reports
---
About the Trainer
Chris Balbach
VP of Research and Development
Performance Systems Development
Chris has over 15 years of experience using energy modeling and analysis software to analyze the investment potential of existing buildings, with a focus on energy efficiency, building durability, and occupant health and safety. He is an active member of the IBPSA-USA Board of Directors, chairs the AEE BESA (Building Energy Simulation Analyst) certification board, and is a voting member of the ASHRAE SPC 211 (Standard for Commercial Building Energy Audits).
Certifications:
PE, CEM, CVMP, BESA