Training Calendar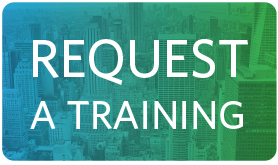 Are there no scheduled dates listed for the training you're looking for?
Request a training
January – April 2014
Jan
16
Thu
2014
Introduction to Energy Modeling w/ OpenStudio

@ Webinar
Jan 16 @ 1:00 pm – 1:30 pm
This 30 minute webinar will introduce you to the applications and plugins that make up the OpenStudio modeling ecosystem and teach you ways to leverage these applications to develop complex energy models and effective modeling workflows, apply crowd-sourced model components and improvements, and analyze models to identify design and improvement opportunities.
Key topics that will be covered:
SketchUp Plugin:
Rapidly generate building forms and fabrics and assign bulk properties with Google SketchUp editing tools.
OpenStudio (OS) Application
Edit and modify OpenStudio objects
Analyze effectiveness of daylight harvesting strategies
Create and edit HVAC systems and controls
Browse, plot, and compare EnergyPlus output data in a graphical format
Parametric Analysis Tool (PAT) Application
Apply credentialed energy conservation measures to models
Rapidly perform simulation studies using the AmazonEC2 cloud
Leverage crowd-sourced content from NREL's Building Component Library
Mar
18
Tue
2014
Advanced TREAT Multifamily Modeling

@ Webinar
Mar 18 @ 10:00 am – 12:00 pm
This two-hour webinar will cover advanced TREAT modeling using the multifamily version. To attend this webinar, participants must be well versed in the use of multifamily TREAT (e.g. prior attendance to an in-person training, webinar, etc.). The following topics are covered in this 2 hour course:
Advanced TREAT Multifamily Modeling
Identify and understand advanced inputs for more flexible modeling
Personalize TREAT with custom defaults for faster and more convenient modeling
Generating and understanding reports in TREAT – knowing which reports will help you troubleshoot your model
Creating and understanding improvements and packages
Opportunity to ask advanced modeling questions to understand issues in your current models

This is a BPI approved course. Upon completion you will be eligible to receive up to two continuing education units (CEUs).
Apr
15
Tue
2014
TREAT Multifamily 3-day Classroom Training

@ Green Jobs Training Center
Apr 15 @ 9:00 am – Apr 17 @ 5:00 pm

Course Description
PSD's 3-day TREAT training will expose attendees to time efficient modeling procedures and methods.  Attendees will learn how to leverage the TREAT modeling software to model and evaluate typical improvement workscopes used by weatherization programs, construct energy models of multifamily buildings from 'scratch', and apply templates to streamline the evaluation of standardized improvements.
The 3-day course is comprehensive and will cover apartment sampling, energy model calibration, modeling strategies, data entry problem solving, billing analysis, quantifying interactions between systems, predicted energy savings, and calculating SIRs.
TREAT Multifamily Mentoring:
This optional add-on to the TREAT classroom training will give attendees the opportunity apply what was learned in the classroom to model an actual multifamily property in the field.  The PSD instructor will walk attendees through the audit process and refresh students on the best practices for modeling multifamily properties.  The TREAT mentoring will take place over the course of 1 day and attendees will walk away from the mentoring experience with a comprehensive TREAT model of a multifamily property that will serve as a helpful reference for future multifamily modeling projects.
* You can sign up for TREAT mentoring during registration for the 3-day TREAT classroom training
Course Objectives
Learn how to use the "Multifamily Existing Building Improvement-Driven Modeling Process" for improving energy efficiency in multifamily buildings using TREAT
Integrate TREAT into the auditing process to improve overall project efficiency and productivity.
Build a TREAT model with an appropriate level of detail to generate savings and workscope reports
Demonstrate proper use of TREAT's billing analysis tools to import a building's actual energy bills and analyze baseline energy signatures and historical energy performance patterns
Incorporate 'non-energy' benefits (i.e. health and safety measures) into the TREAT model
Follow recommended procedure for 'true-up' of TREAT model
Create and analyze the investment potential of individual ECMs and interacting sets of improvements
Produce appropriate TREAT improvements reporting for weatherization projects
Use TREAT to determine actual energy savings vs. predicted energy savings

Modeling is now a BPI requirement. Upon completion you will be eligible to receive up to 10.5 continuing education units (CEUs).