Training Calendar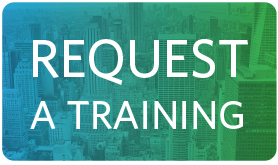 Are there no scheduled dates listed for the training you're looking for?
Request a training
April 2017
Apr
18
Tue
2017
Building Operator Training and Re-tuning

@ Philadelphia - Delaware Valley Green Building Council
Apr 18 @ 1:00 pm – 5:00 pm
Overview
The purpose of this course is to help operations and maintenance (O&M) staff learn how to operate buildings more efficiently, reduce operating cost, and provide energy savings. This course will provide prescriptive best practices for maintaining good operations, and an overview of the re-tuning process using building automation system (BAS) trend data.  Attendees will learn how to look for and optimize the control strategy for many of the common energy saving opportunities such as occupancy scheduling, temperature and static pressure control, and economizer function.  Attendees will also learn basic principles of preventative maintenance, electrical diagnostics, building commissioning, and demand response.
Intended Audience
Onsite O&M staff responsible for day-to-day building operations
O&M staff management looking to integrate the re-tuning process into their O&M procedures
Offsite contractors (retro-commissioning agents or control vendors) hired to improve a building's energy efficiency
Prerequisite Knowledge
Basic understanding of commercial building systems (e.g. air handling units, VAV boxes, boilers, chillers)
Familiar with basic functions of building automation systems (BAS)
Scope
Prescriptive best practices for good building operations
Overview of the re-tuning process using BAS data
Actionable guidance on how to look for and optimize the control strategy of each of the following re-tuning measures:

Occupancy Scheduling
Discharge-Air Temperature Control
Discharge- Air Static Pressure Control
Air-Handling Unit Heating and Cooling
Air- Handling Unit Outside/Fresh Air makeup
Air-Handling Unit Economizer Operation
Zone Conditioning
Central Plant Optimization

Basic principles of the following topics and when they are most applicable:

Preventative Maintenance and Troubleshooting
Electrical and Mechanical Diagnostics
Building Commissioning
Demand Response Techniques
Learning Objectives
Be able to list five low/no-cost prescriptive O&M measures that may apply to your building
Be able to describe the basics of the re-tuning process, and some of the benefits
List at least three examples of poor operations that can be found through the re-tuning process