PSD | We Speak Building
At Performance Systems Development (PSD), we translate building science expertise into innovative
energy efficiency programs
,
engineering services
,
training
& powerful
software tools
. We recognize the importance buildings play in reducing overall energy consumption. They use over 40% of the energy consumed in the US, and most people spend 90% or more of their time in them. Helping to achieve peak performance across America's building stock is our core mission, and it requires focused expertise to accomplish this on a grand scale. We have a deep understanding of how buildings work. We've been practicing a holistic approach to this challenge for over 15 years. Whether you're looking to run an
energy efficiency program
,
benchmark a portfolio of buildings
, or provide better energy efficiency assessments, we offer the
tools
,  services, &
training
to help you achieve success.
PSD Infographic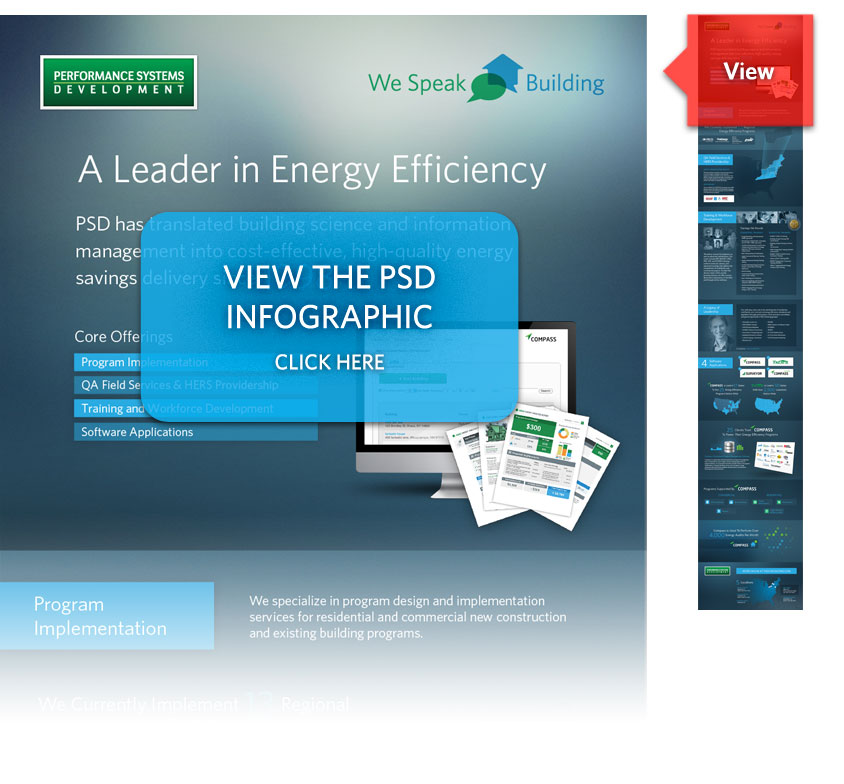 ---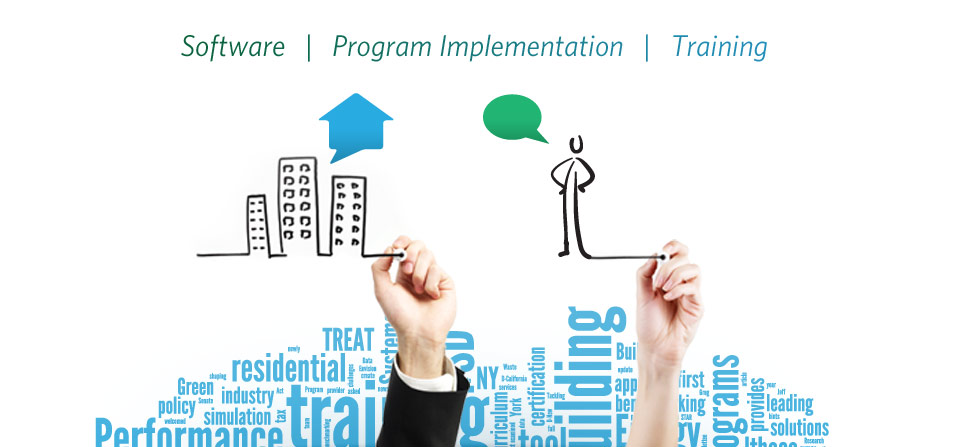 How We're Different
We Speak Building — we translate building science into actionable information for energy service professionals, building performance contractors, commercial property owners, and program implementers through our software products & professional services.  We have clients that use our software and/or leverage our services across all 50 states.  We are committed to transforming the nation's energy markets to achieve environmental sustainability and economic prosperity.
Staff experience and expertise:   We have experienced staff with a wide range of skill sets, which include:  program management; software development; energy & building engineering, energy auditing, and construction. We draw on the depth and diversity of this knowledgebase every day to meet the needs of our clients.
Thought leadership and market transformation:  We take pride in the fact that our senior executives play active roles in defining and developing data transfer standards and drafting new legislation to help drive the energy efficiency industry forward.
History
Background and Leadership
To know Performance Systems Development, you should know more about our Founder, Gregory Thomas. A visionary in the energy efficiency field for over 30 years, Greg's commitment to energy efficiency and building performance is as tireless as his energy is contagious across the company. As the past chair of Efficiency First, and resent board member of RESNET, he is deeply involved at the very top levels of government regulation, industry standards, technology partners, and program management. He founded the New York Building Performance Contractors Association and is a past president of ACI (Affordable Comfort Inc.). BPI (Building Performance Institute) has acknowledged Greg's contributions with a lifetime achievement award. Greg has also served advisory roles for NYSERDA (New York State Energy Research and Development Authority) as well as the U.S. Department of Energy, and is a past program director for the USGBC (US Green Building Council). Greg's passion, commitment, drive, and creativity are shared across the company and part of our induction process. We strive to drive market transformation through sensible and effective energy efficiency standards, inventive applications of technology, peer building performance comparisons, and quality training accreditation. The intended results of our efforts are to ensure that our built environment is operating at peak performance, providing energy efficient, safe, comfortable, and healthy living and working environments. We'd love to have you join us in the effort.
Timeline
1992

Greg Thomas elected President of the board of director for Affordable Comfort Inc. Greg announces the term Home Performance to describe the whole house retrofit industry at an ACI event in California.

1995

Greg Thomas and Associates (now PSD) initiates first Home Performance program working with Niagara Mohawk.

1997

Greg Thomas forms NY based Building Performance Contractors Association, precursor trade group to Efficiency First

1998

TREAT software development funded by NYSERDA to support their upcoming Home Performance program and multifamily programs. PSD partners with Taitem Eng.

1998

Ecovillage at Ithaca wins HUD Affordable Housing Award with energy designs by Greg Thomas, covered by Popular Science, NY Times, Wall Street Journal, etc.

1998

PSD founded at Ecovillage at Ithaca

1999

First Whole House training curriculum (developed for Wisconsin Technical College by PSD under a contract with WECC)

2000

California Energy Commission report on building performance business lays out need for corporate accreditation model in addition to individual certification model. Accreditation model eventually adopted by BPI for contractor business QA.

2000

PSD supports development of New Homes program for NYSERDA

2000

PSD helps launch NYSERDA Energy Smart loan program for commercial and multifamily buildings

2000

New York, California and Wisconsin adopt Home Performance program model with support from PSD

2001

PSD forms Performance Systems Contracting to deliver whole house residential and multifamily energy installation services

2002

California Energy Commission funds PSD work on curriculum as part of best practices definition for whole house contracting.

2002

Online Tracking Tool for Energy Retrofits (OTTER) installed for Public Service New Hampshire and other NH electric utilities. Aggregated XML data exports from TREAT into online program management system. Set up secure utility bill data feed from utility to TREAT users for model calibration. System still operating.

2003

TREAT pre-approved by DOE Weatherization as only tool suitable for all building types from Mobile Homes to High Rise Multifamily

2004

HUD funds PSD work on curriculum/best practices under PATH

2005

Enterprise Foundation contracts with PSD for the calculation of energy and carbon savings from the Green Communities Program. Results used to generate over $1B in financing for affordable housing.

2005

PSD becomes BPI Training Affiliate

2005

Greg Thomas honored for Home Performance contributions at federal press conference announcing adoption of Home Performance with ENERGY STAR as the national program for whole house retrofit by EPA, DOE and HUD.

2005

R&D 100 Award for TREAT as one of the top technology commercialization efforts internationally. Award to PSD, Taitem, NREL and NYSERDA

2006

PSD acquires outstanding 50% share of TREAT and other software projects from Taitem.

2006

Maine Home Performance Program funded by DOE Grant proposal written by PSD.

2006

PSD proposes benchmarking tool to NYSERDA as part of their Focus on Commercial Real Estate program. NYSERDA funds expansion of existing PSD platform.

2007

PSD supports Vice President Gore in the measurement and verification of the energy and carbon savings for his house in Nashville TN, to support responses to conservative critics.

2007

PSD acquires Sunnywood Designs.

2007

PA Home Energy started with West Penn Power Sustainable Energy Fund. PSD opens PA office.

2007

PSD becomes national RESNET provider.

2007

Laurel Ridge Capital invests in PSD.

2008

NYSERDA CRE tool launched and presented to EPA, NYC Mayor's Office and Real Estate Board of NY.

2008

Greg Thomas is presenter on multifamily energy audits as part of national HUD broadcast.

2008

Ethan MacCormick named to RESNET Quality Assurance Committee and elected to the Board of the NE HERS Alliance.

2009

Greg Thomas elected to RESNET Board of Directors.

2009

Building Performance Compass Launched.

2009

Green Energy Compass launched as Residential Audit and workflow platform.

2009

PSD proposes Home Performance XML as a standard interface for collecting and reporting energy retrofit data. BPI selects PSD as a partner to develop HPXML under a contract with EPA.

2010

Build It Green and PSD win PG&E Whole House Program implementation.

2010

Greg receives Building Performance Institute's Lifetime Achievement Award.

2010

Greg Thomas Named Chair of Efficiency First.

2010

PSD proposes RESNET Audits Software Standard to RESNET and Greg Thomas named chair of Committee.

2010

PSD proposes and supports development of the BPI 2400 ANSI standard for Residential Energy Model Calibration. This is a key component of creating a standard for a performance based incentive calculation, such as for a tax credit.

2010

PSD opens Philadelphia office.

2010

Blue Hill Capital invests in PSD.

2010

PSD awarded Contract with NREL to teach commercial energy auditing to federal facilities worldwide.

2010

Chris Balbach named Chair of AEE Building Energy Simulation Analyst Certification Committee.

2011

Senators Snowe, Feinstein and Bingaman introduce the 25e national tax credit for a performance based incentive for residential energy efficiency. Senate press release quotes Greg Thomas.

2011

PSD awarded NREL contract to provide technical support to State and Weatherization Program grant awardees.
| | |
| --- | --- |
| 2011 | PSD awarded NREL contract to provide technical support to State and Weatherization Program grant awardees. |
| 2011 | Senators Snowe, Feinstein and Bingaman introduce the 25e national tax credit for a performance based incentive for residential energy efficiency. Senate press release quotes Greg Thomas. |
| 2010 | Chris Balbach named Chair of AEE Building Energy Simulation Analyst Certification Committee. |
| 2010 | PSD awarded Contract with NREL to teach commercial energy auditing to federal facilities worldwide. |
| 2010 | Blue Hill Capital invests in PSD. |
| 2010 | PSD opens Philadelphia office. |
| 2010 | PSD proposes and supports development of the BPI 2400 ANSI standard for Residential Energy Model Calibration. This is a key component of creating a standard for a performance based incentive calculation, such as for a tax credit. |
| 2010 | PSD proposes RESNET Audits Software Standard to RESNET and Greg Thomas named chair of Committee. |
| 2010 | Greg Thomas Named Chair of Efficiency First. |
| 2010 | Greg receives Building Performance Institute's Lifetime Achievement Award. |
| 2010 | Build It Green and PSD win PG&E Whole House Program implementation. |
| 2009 | PSD proposes Home Performance XML as a standard interface for collecting and reporting energy retrofit data. BPI selects PSD as a partner to develop HPXML under a contract with EPA. |
| 2009 | Green Energy Compass launched as Residential Audit and workflow platform. |
| 2009 | Building Performance Compass Launched. |
| 2009 | Greg Thomas elected to RESNET Board of Directors. |
| 2008 | Ethan MacCormick named to RESNET Quality Assurance Committee and elected to the Board of the NE HERS Alliance. |
| 2008 | Greg Thomas is presenter on multifamily energy audits as part of national HUD broadcast. |
| 2008 | NYSERDA CRE tool launched and presented to EPA, NYC Mayor's Office and Real Estate Board of NY. |
| 2007 | Laurel Ridge Capital invests in PSD. |
| 2007 | PSD becomes national RESNET provider. |
| 2007 | PA Home Energy started with West Penn Power Sustainable Energy Fund. PSD opens PA office. |
| 2007 | PSD acquires Sunnywood Designs. |
| 2007 | PSD supports Vice President Gore in the measurement and verification of the energy and carbon savings for his house in Nashville TN, to support responses to conservative critics. |
| 2006 | PSD proposes benchmarking tool to NYSERDA as part of their Focus on Commercial Real Estate program. NYSERDA funds expansion of existing PSD platform. |
| 2006 | Maine Home Performance Program funded by DOE Grant proposal written by PSD. |
| 2006 | PSD acquires outstanding 50% share of TREAT and other software projects from Taitem. |
| 2005 | R&D 100 Award for TREAT as one of the top technology commercialization efforts internationally. Award to PSD, Taitem, NREL and NYSERDA |
| 2005 | Greg Thomas honored for Home Performance contributions at federal press conference announcing adoption of Home Performance with ENERGY STAR as the national program for whole house retrofit by EPA, DOE and HUD. |
| 2005 | PSD becomes BPI Training Affiliate |
| 2005 | Enterprise Foundation contracts with PSD for the calculation of energy and carbon savings from the Green Communities Program. Results used to generate over $1B in financing for affordable housing. |
| 2004 | HUD funds PSD work on curriculum/best practices under PATH |
| 2003 | TREAT pre-approved by DOE Weatherization as only tool suitable for all building types from Mobile Homes to High Rise Multifamily |
| 2002 | Online Tracking Tool for Energy Retrofits (OTTER) installed for Public Service New Hampshire and other NH electric utilities. Aggregated XML data exports from TREAT into online program management system. Set up secure utility bill data feed from utility to TREAT users for model calibration. System still operating. |
| 2002 | California Energy Commission funds PSD work on curriculum as part of best practices definition for whole house contracting. |
| 2001 | PSD forms Performance Systems Contracting to deliver whole house residential and multifamily energy installation services |
| 2000 | New York, California and Wisconsin adopt Home Performance program model with support from PSD |
| 2000 | PSD helps launch NYSERDA Energy Smart loan program for commercial and multifamily buildings |
| 2000 | PSD supports development of New Homes program for NYSERDA |
| 2000 | California Energy Commission report on building performance business lays out need for corporate accreditation model in addition to individual certification model. Accreditation model eventually adopted by BPI for contractor business QA. |
| 2000 | TREAT launches |
| 1999 | First Whole House training curriculum (developed for Wisconsin Technical College by PSD under a contract with WECC) |
| 1998 | TREAT software development funded by NYSERDA to support their upcoming Home Performance program and multifamily programs. PSD partners with Taitem Eng. |
| 1998 | Ecovillage at Ithaca wins HUD Affordable Housing Award with energy designs by Greg Thomas, covered by Popular Science, NY Times, Wall Street Journal, etc. |
| 1998 | PSD founded at Ecovillage in Ithaca, NY |
| 1997 | Greg Thomas forms NY based Building Performance Contractors Association, precursor trade group to Efficiency First |
| 1995 | Greg Thomas and Associates (now PSD) initiates first Home Performance program working with Niagara Mohawk. |
| 1992 | Greg Thomas elected President of the board of director for Affordable Comfort Inc. Greg announces the term Home Performance to describe the whole house retrofit industry at an ACI event in California. |