Join our Team of Dedicated Professionals!
Performance Systems Development (PSD) leverages the latest technology to deliver cost effective credentialed savings predictions to energy efficiency programs.  PSD has clients across all 50 states and is committed to transforming the nation's energy markets to achieve environmental sustainability and economic prosperity. Our clients include Utilities, portfolio owners and other energy service professionals.
Read more about us
.
To Apply:
Applicants can apply online here, where you will be able to upload your cover letter & resume.
PSD is an affirmative action & equal opportunity employer
Vision:
Make the world a better place for this and future generations to come
Mission:
Change the world, by changing how people and buildings use energy
OUR CORE VALUES: C. A. R. E.
Customers

– They're the reason we're here!
Exceed our customers' expectations everyday (both Internal & External)
Commitment to selling the highest quality products and services
---
Associates

– Our most valuable asset, attract and retain the best
Invest in our people; develop and grow the skills needed for tomorrow
Celebrate team and individual success; share in the passion of doing great things
Work-Life balance, create a diverse, dynamic and motivating place to work
Genuinely committed to each other and the community we serve and live in
Play hard, work hard, win-win
---
Real

– Communications & Teamwork
Provide the necessary resources and tools needed for associates to succeed
Keep score and share the information with one another
Ensure everyone knows exactly how well the company is doing, where we are heading and the role each of us play in our success
Regularly engage in open, honest and concise communication
---
Excellence

– Exceed our business goals
Hold ourselves accountable to fulfill our commitments
Deliver the numbers and generate sustainable long term growth
Take reasonable, cost effective risks, embrace diversity, change and new ideas
Conduct ourselves and our business with respect and integrity
Inspire the industry through creativity, innovation and leadership
Why work for Performance Systems Development?
Grow with us: At PSD you'll be challenged with high energy, achievable expectations and supported by constant access to leading industry experts for success. Work groups collaborate closely in tackling business objectives and meeting client needs. All staff, from the top down, is easily accessible and very approachable.  We draw on the diversity of our skills and experience to craft creative and practical solutions to the energy conservation challenges that our clients face. There is little bureaucracy in decision-making, allowing you to focus achieving, not proposing.  You'll be faced with exciting career opportunities within the company as we continue to grow.
---
Dynamic Culture: Performance Systems Development (PSD) is a dynamic and rapidly growing company supporting energy efficiency programs with comprehensive consulting, software, engineering and training services. Those who join our team enjoy a collaborative team environment where all of our efforts focus on energy conservation, improving living environments, and training a skilled workforce for the new green economy.  Few other employers can offer such a meaningful and rewarding purpose.
---
Diverse clients with sophisticated solutions: Joining PSD puts you at the forefront of our industry.  We are developing the latest technology, products and services for our wide range of customers and clientele.  Our software products are being used in energy efficiency programs in well over 20 states.  Our suite of comprehensive tools enables governments, utilities, and non-profits to initiate and launch successful energy conservation programs efficiently. Our professional services group offers leading edge training and certification in today's emerging field of building performance.  And our Engineering Services group conducts on-site building audits and assessments, and consults on and implements energy efficiency upgrades and retrofits.
---
Put your energy to good use: Energy conservation helps to alleviate global warming by lowering the energy consumption of residential, commercial, and industrial buildings. The focus on energy conservation not only helps America reduce our energy dependence while providing for an improved quality of life for future generations.
Current Opportunities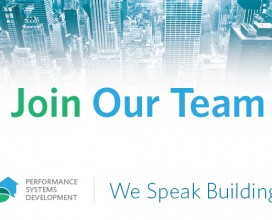 Performance Systems Development is looking for a Program Coordinator to join our growing and dynamic energy efficiency programs team. We are seeking a high-performing individual with excellent communication skills and key strengths and experience in any of the following: energy efficiency, public policy, residential construction, real estate, customer outreach, and the use and development of data tracking and database systems.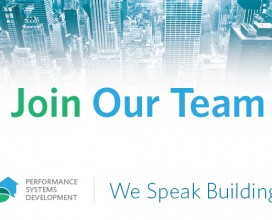 Performance Systems Development is looking for a Marketing Coordinator to join our growing and dynamic energy efficiency programs team. We are seeking a high-performing individual with a positive, can-do attitude with an affinity for outreach, graphic design, and/or email marketing and other marketing techniques. A background related to energy efficiency and buildings is a plus.
---