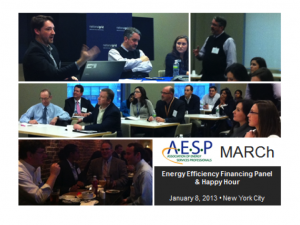 The Mid-Atlantic Regional Chapter (MARCh) of the Association of Energy Service professionals (AESP) hosted its second in-person regional meeting. The meeting focused around a panel on developments in energy efficiency financing. Three experts participated in the panel and shared recent developments in financing that have occurred in the residential, multifamily and commercial energy efficiency spaces.  Over 30 professionals attended the event which was held at National Grid's Brooklyn Offices. To top off the night, participants migrated over to a local bar to debrief on the panel discussions and network over drinks and appetizers.
The PowerPoint presentations from the event are provided below:
Residential Energy Efficiency Financing – Peter Krajsa, Chairman and CEO, AFC First
Multifamily Energy Efficiency Financing – Andy Padian, Vice President for Energy Initiatives, The Community Preservation Corporation
Commercial Energy Efficiency Financing  – Laura Adelman, Policy Analyst, National Grid
If you are interested in attending future AESP MARCh events, please click here.
If you would like to become a member of AESP, please click here.