This quarter's Employee Spotlight is…
Erin Meyer – Training & Development Coordinator, Programs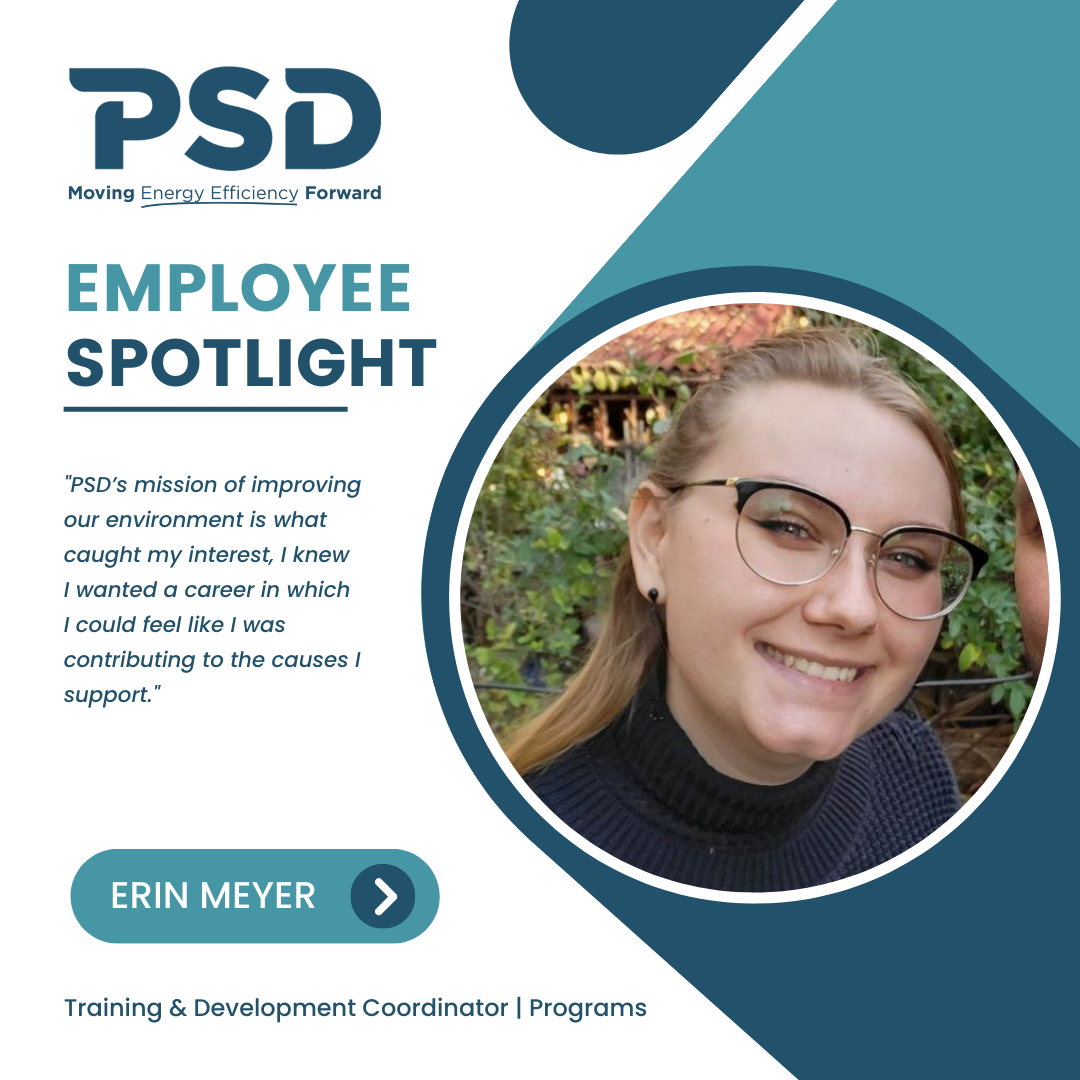 1. Where did you grow up? Where do you reside now?
I grew up in New Jersey but went to college in Pennsylvania. I stayed there for a few years after school and recently moved back to New Jersey!
2. What did you want to be when you grew up (when you were child)?
An archaeologist. I have always been fascinated by history.
3. What guided you into the energy efficiency industry?
PSD's mission of improving our environment caught my interest, and I knew I wanted a career that contributed to the causes I support. The ability to work from home has been another major plus that I didn't realize I would come to value.
4. What does a day in the life of Erin at PSD look it?
Emails, Excel, and Audiobooks. Although recently adopting an LMS has been shaking up my day-to-day in a good way, I'm excited to see how it changes the way the Energy Codes team delivers training.
5. What is your favorite PSD-related memory?
In my first year at PSD we had a virtual holiday party and it was my first time seeing most of the company. And I remember John Davis showing up on camera with some kind of fuzzy suit, like a snowman or cat? Yeah that's a memory…
6. What do you do when you aren't at work? Any interesting hobbies?
When I'm not working and at home, I enjoy crocheting, videogames, and attempting to garden. If I'm not home, I'm most likely camping with my wonderful partner and our dog.
7. Do you have any pets?
I have a mutt named Loki!
8. What is your favorite holiday?
Halloween! I pretty much only watch horror movies, so Halloween is an excuse to further indulge in that.
9. Favorite travel destination? Or dream travel destination?
In college I studied abroad in Greece and I'm determined to go back someday soon!
10. Favorite musician/genre?
My favorite genre is Metal but by far my favorite band is The Cure.
11. What's the top item that is still on your bucket list? Have you checked anything cool or fun off?
I would really love to take a trip to Mexico and tour as many Mayan Ruins as possible. I'd also like to see and/or swim in a cenote.
12. What is an interesting thing about yourself that not a lot of people know?
I am a medieval reenactor in the Society for Creative Anachronism, which comes with loads of other strange hobbies- traditional archery and leatherworking to name a few.

Thank you, Erin! We appreciate you taking the time to do this and are excited to have people get know a little more about you and your contributions to our PSD Team!