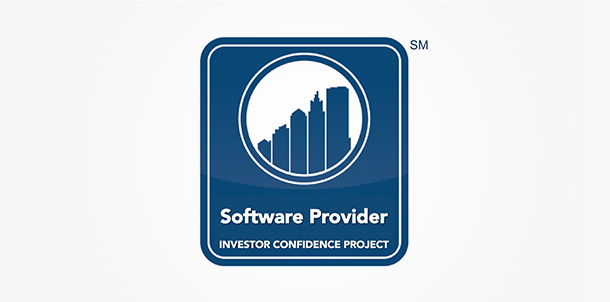 ICP Protocols bring a level of standardization to the inherently complex world of energy efficiency.  Core to ICP's approach is the development of a standardized documentation package to allow owners, investors, insurers and others to validate underwriting criteria.  ICP is also undertaking the creation of an ICP workflow which leverages project developers, software producers, and quality insurance providers to create ICP  Investor Ready Energy EfficiencyTM projects.
The Software Provider Credential program has been created to ensure that standardization can be achieved at scale through automation.  Credentialed providers applications allow developers and others to bring ICP compliant projects to market quicker and with fewer resources.  The introduction of an ICP Virtual Documentation Package as specified in the guidelines will enable the standardization of documentation assembly, access, and verification and is a key enabler to reduce transaction costs, speed underwriting, and increase investor/owner confidence.  Conforming application will also be able to facilitate the workflow required to originate ICP  Investor Ready Energy EfficiencyTM projects through an automated and secure process.
---
Performance Systems Development is proud to be an official Investor Confidence Project Software Provider.
Compass
makes supporting the ICP protocol straightforward with third party platform integration such as the EPA's Portfolio Manager®. Compass streamlines data collection and ensures a robust and comprehensive solution to navigating through or around unforeseen road-blocks. And with direct support for the ICP documentation protocols, Compass can also be configured to support custom variations. Learning more about the
Investor Confidence Project
.
As an ICP Software Provider Compass Supports:
Documentation Management: Software provides a means to access a Virtual Documentation Package or VDP providing access to the documentation specified by the ICP Energy Performance Protocols. Access is controlled so that various parties in the process (developers, owners, QA providers, lenders, underwriters) can access the documentation in a secure fashion based on assigned permissions.
Document Organization: The VDP are organized in a manner that users can easily locate necessary files according to the ICP Project Lifecycle (as depicted in http://www.eeperformance.org/project-framework.html)
Document Association: Users can easily access each identified data element.


Example Data Elements

Weather data
Baseline utility data
Description of baseline period
Utility rate structures
End-use energy usage
Building asset / operational / performance data
Interval meter data
Sub-metering data
On-site weather data
Calibration certificates
Owner's rent roll
Copies of utility bills
Monthly consumption load profiles
Monthly peak demand
Interval meter data
Modeler qualifications
Savings calculator qualifications
Model calibration
Model input files
Descriptions of ECMs
Calculations
Weather file
Calculation results
Cost estimate details
Bids by trade
Quality control statement
OPV authority qualifications
OPV Plan
OPV statement of project conformity
OPV report
Training materials
System manual(s)
Trending plan
Plan for fault detection and remidiation
Operator's Manual and Organizational chart
Maintenance plans / service response logs
Training curriculm
M&V authority qualifications
M&V Plan
Routine adjustments
Non-routine adjustments
Reporting period utility data
Reporting period independent variable data
Reporting period dependent variable data
Regression-based energy model
Data collected
Verified savings calculations

Document Verification: Compass enables workflows allowing for QA Providers (or other authorized reviewers) to designate that a project conforms to the ICP specifications. Upon such designation the project data and documentation will be "locked" to prevent retroactive changes.
Financial Metrics Representation. Proposals and other documentation generated by Compass that includes financial calculations (such as cash flows, ROI, SIR, etc.) accurately references savings calculations based on the ICP protocols and are calculated accurately in accordance with industry standards.
---
Background on Compass for Commercial Finance Programs
Performance Systems Development
(PSD) is an industry leader in translating building science expertise into powerful software tools & innovative program services. PSD's trusted program services, software development, engineering services, and workforce development expertise have a legacy of success in moving the energy efficiency industry forward. PSD's flagship enterprise software,
Compass
, was developed to meet the diverse needs of managing energy efficiency programs, including those specific to commercial finance programs such as PACE and utility finance programs.
This solution also benefits municipal finance programs, banks and loan funds looking to automate processes, and contractors looking to expand their access to capital markets. This fully configurable software solution allows for custom workflows that easily adapt to the needs of this ever-growing market.
Here's some of the ways Compass is meeting the needs of commercial finance programs"
Workflow management of submitted documents and document storage.
Linkage with EPA Portfolio Manager for ongoing retrieval and analysis of energy usage information.
Ongoing savings measurement including baseline determination and adjusted baseline.
Preliminary screening of savings potential using parametric savings.
Portfolio view of building performance including disaggregated usage.
And much more…
Take Compass to the next level by leveraging PSD's Measurement & Verification (M&V) and Energy Efficiency Engineering Services expertise, including
Setup:

Setting up savings calculations
Customizing tablet data collection
Support:

M&V
Engineering review
Engineering review of savings and M&V plans
Automated Quality Assurance analysis of Portfolio Manager data
Credentialed Energy Engineering, M&V and Auditor Training for process standardization and capacity building
Compass meets all the requirements of the Investor Confidence Project, but the features that really set Compass ahead of the pack are
The ability to assess savings potential using quick calculations
Real time realization rate tracking for fast identification of savings shortfall
Programmable linkage to SalesForce CRM
Built-in energy model calibration option for greater savings confidence
Extensive customization options to meet specific program requirements
Independent instances for utility grade security requirements
Connections to utility billing data feeds
Experience in meeting utility program and savings calculation requirements
Time saving features leading to reduced program cost:
Upload of data from configured spreadsheets.
Compass links to customer portals or existing websites.
Tablet based custom data collection.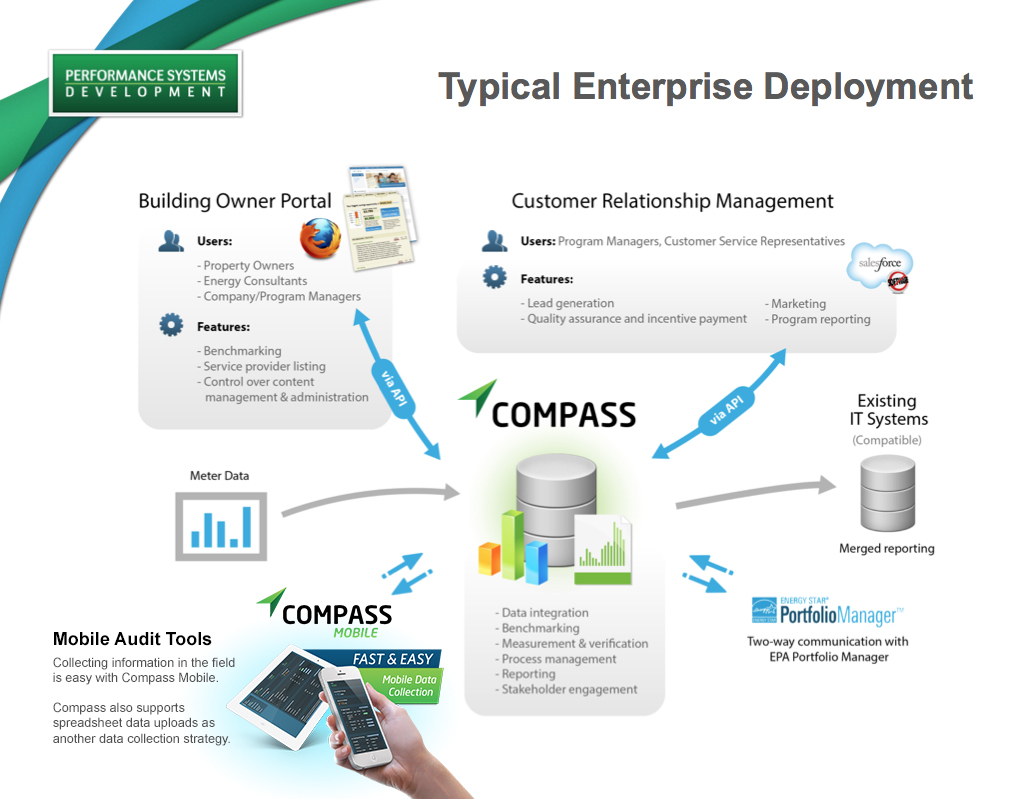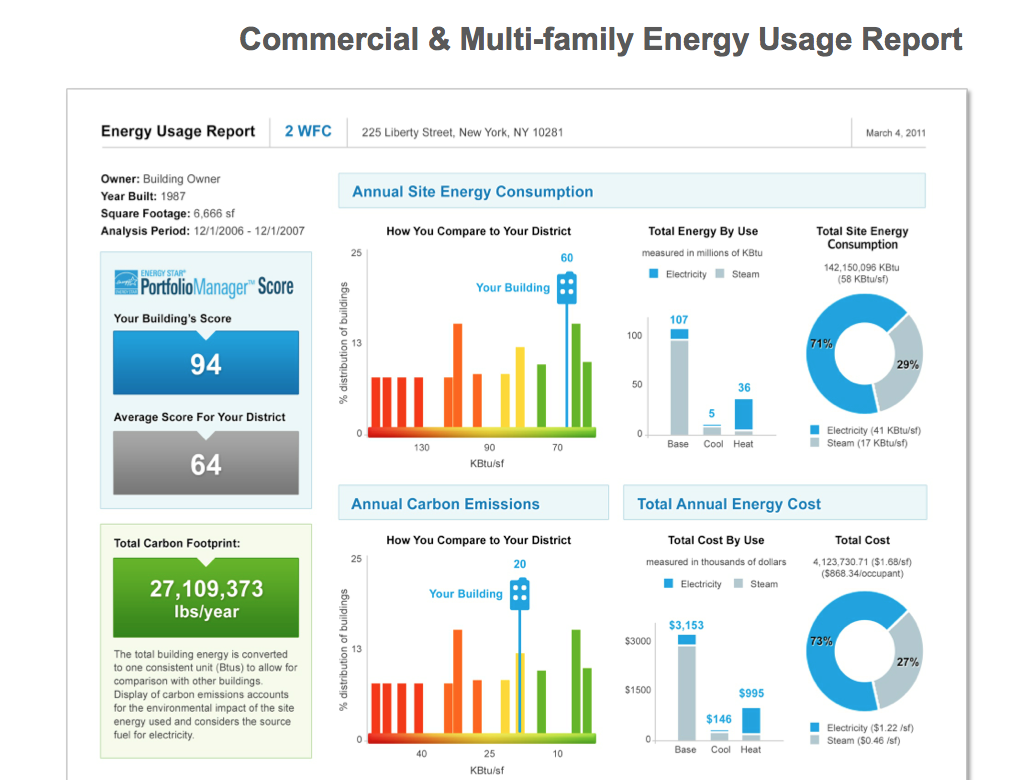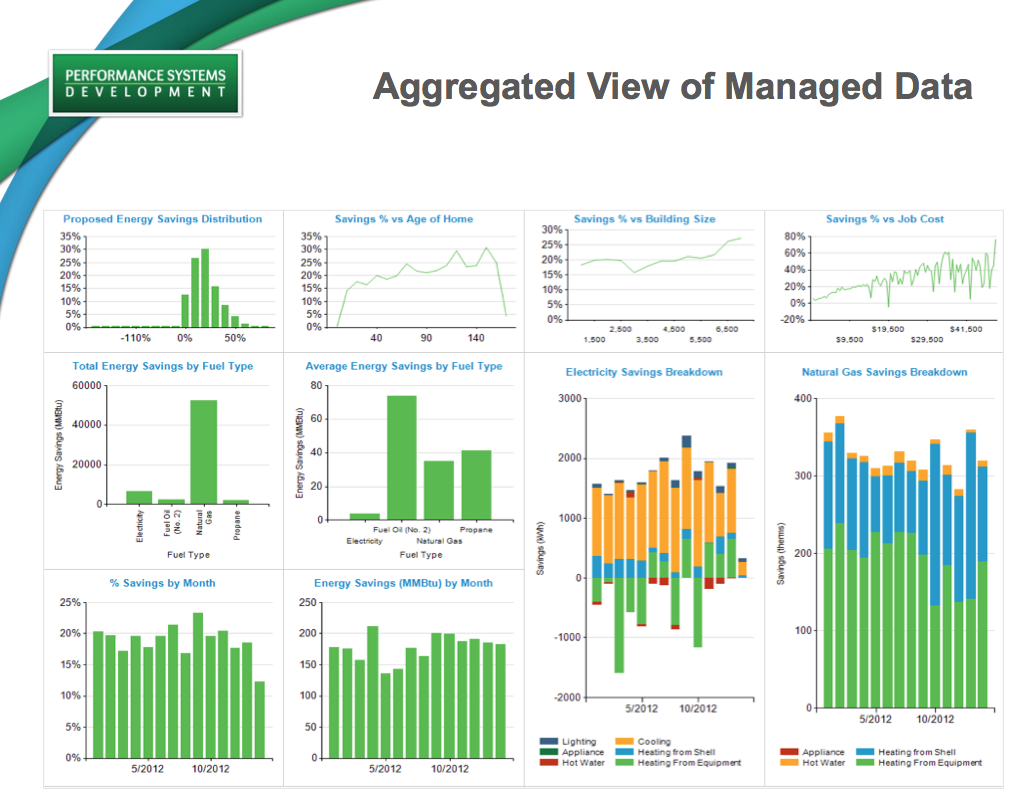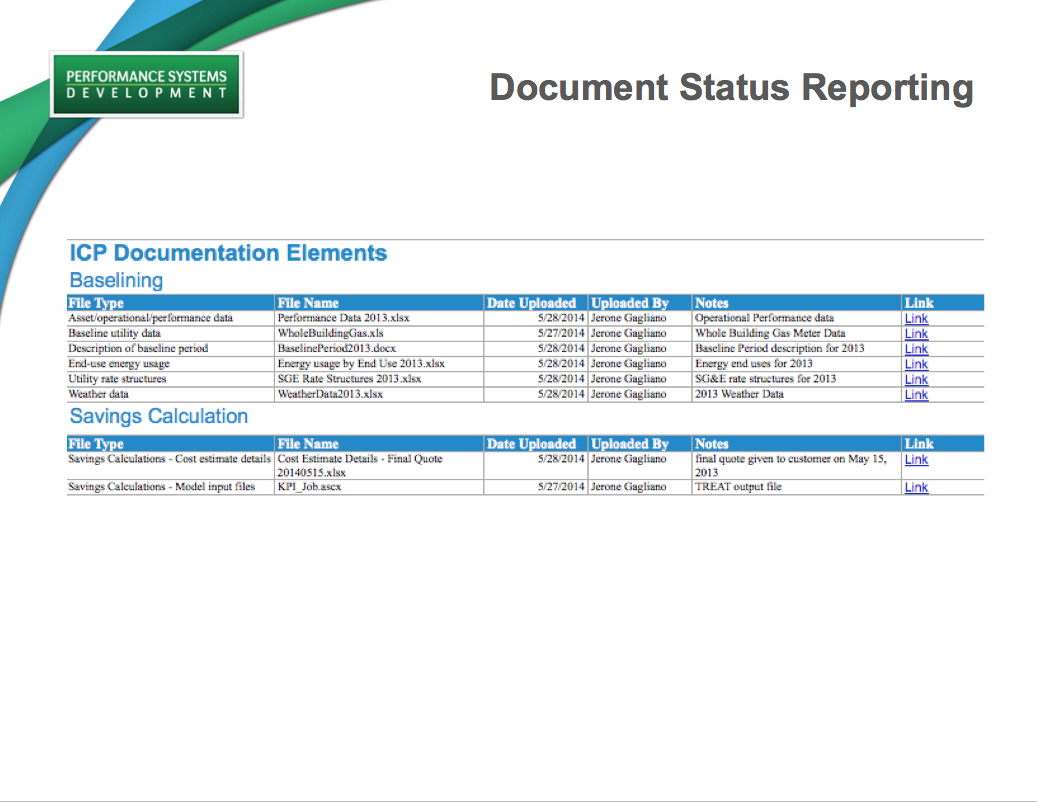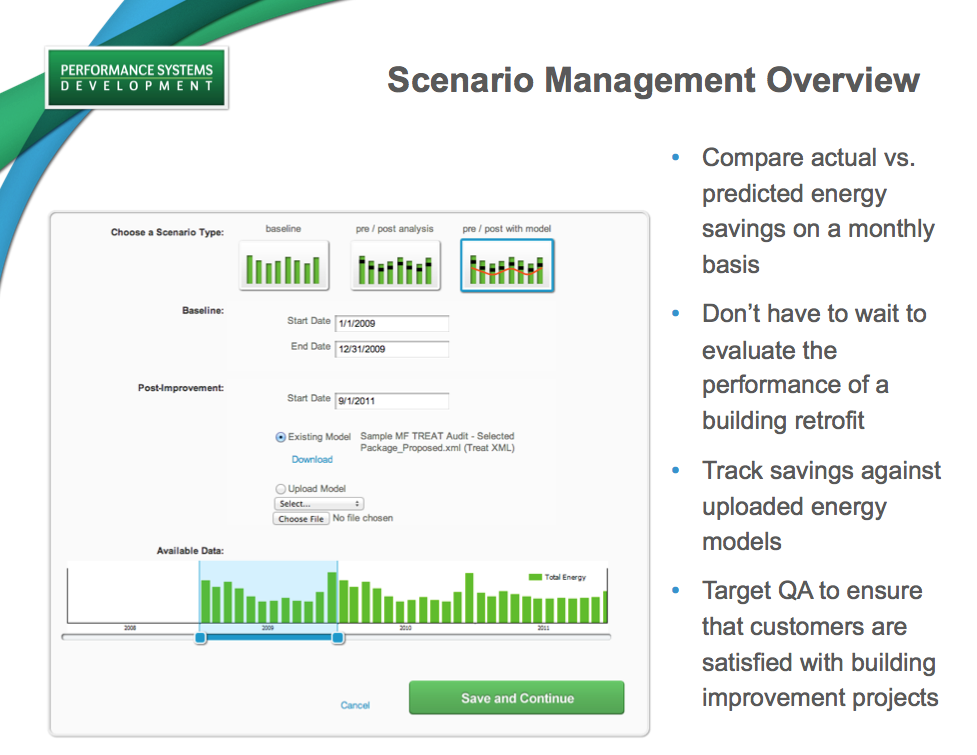 ---
Configure the Optimum Finance Program with Compass by Performance Systems Development

Documentation Management
Through a combination of file management and reporting, Compass comes already set up to manage the documentation associated with a ICP compliant program. Program staff can quickly see which document elements have been provided and drill down to review those documents.
Retrofit Savings Tracking
Compass provides reporting on a variety of metrics. Reports include summary reports on pipelines, project status and accumulated savings as well as reporting on individual buildings. The programmable link from Compass into external systems allows reports to be generated from data feed into connected systems such as SalesForce.
Real Time Realization Rate Tracking
Using industry standard calculations Compass can help you set a baseline for your project. This baseline can be used to track the savings for projects from a weather adjusted baseline. A real time tracking of the actual vs predicted savings can be tracked for projects with savings predicted using an energy model. This allows for fast identification of savings shortfall, protecting the investment of the investor and the building owner and allowing fast identification of service providers' ability to deliver predicted savings
Integrated Benchmarking
Compass's powerful analysis engine and user-friendly interface allows program administrators and building performance specialists to quickly and accurately provide a comprehensive view of a property's energy impact. Compass streamlines the administrative process with sophisticated workflow & incentive tracking, stakeholder management, and program level reporting. Compass has informative benchmarking reports that make it quick and easy to spot underperforming buildings and malfunctioning equipment. Compass is fully integrated with EPA's Portfolio Manager (PM) via a well-established API connection and can both pull and push data from PM allowing the detailed analysis of usage and space data entered into Portfolio Manager, including PSD's unique Advanced Quality Management System for Portfolio Manager.
Screen Potential Retrofits
Compass can be configured for the quick analysis of savings potential of common energy efficiency measures based on a minimal number of inputs. These calculations can be accessed directly through Compass, via connected portals, or via the Compass Mobile Audit Tool and can be integrated with stock or custom reports.
So, whatever your program needs, trust the versatility and accuracy of Compass by Performance Systems Development to power your energy efficiency program!