PSD announces several key appointments to its Senior Leadership Team to support existing business and foster continued growth. These leaders will build on PSD's ongoing momentum, working closely with diverse partners to develop solutions to support Federal IRA Rebate Programs in establishing large-scale decarbonization and electrification. Please contact us if you would like to learn more about PSD's energy efficiency solutions for utility companies, program implementers, and governmental organizations.
Below are the recent appointments made by PSD, with current job roles and biographies for each: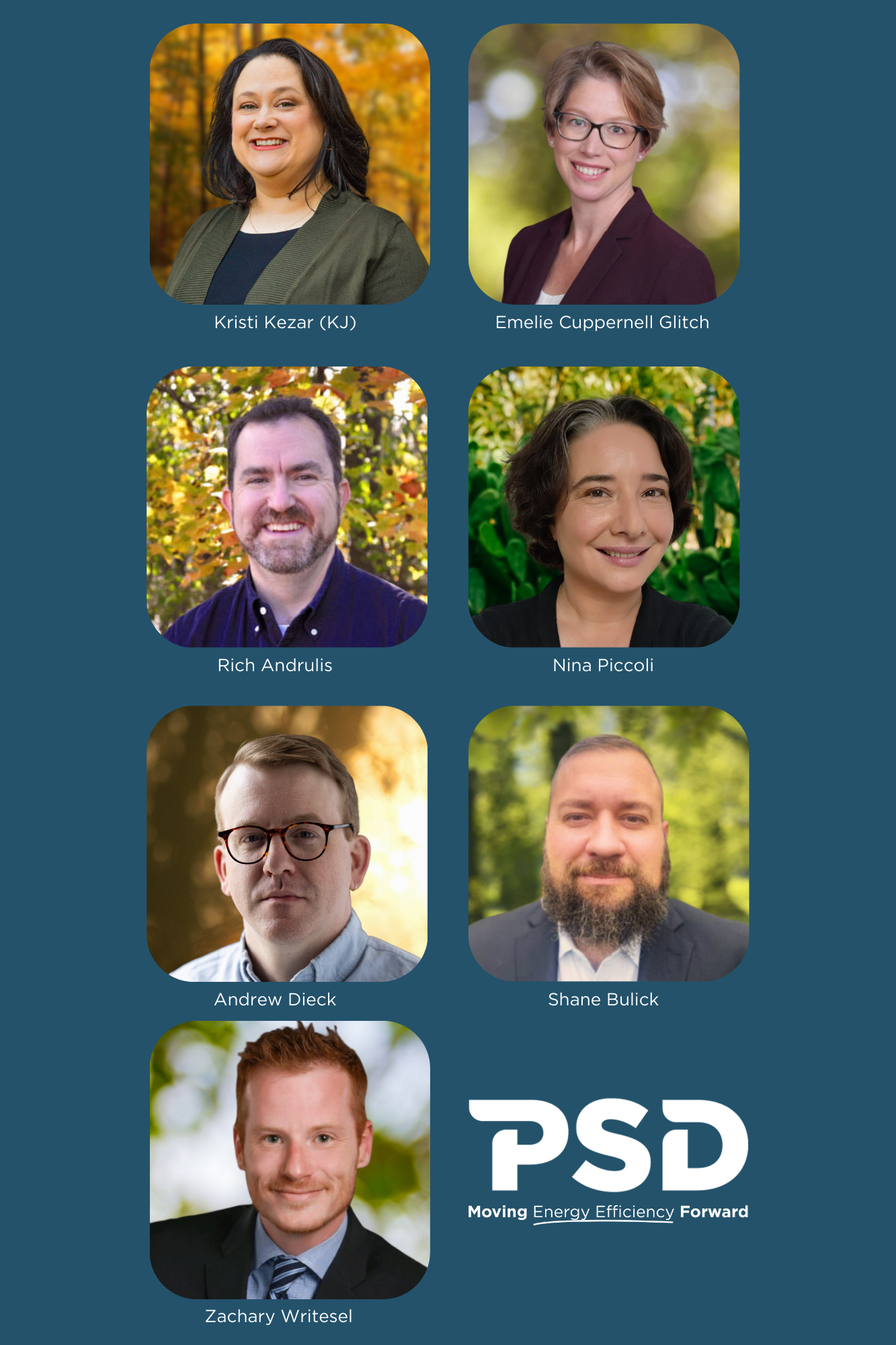 Kristi Kezar (KJ), Vice President of Business Development: As VP of Business Development, KJ brings over 23 years of experience in the Demand Side Management industry, creating marketable solutions that educate, encourage, and enable beneficial projects with the best management of energy resources. She has worked with energy efficiency, demand response, and DERMS across C&I and residential markets on programs in 23 states and five countries. Her program work includes program design, management, marketing, field verification, EM&V, and technical review. As a former engineer, KJ provides building energy simulation modeling for new construction, renovations, building energy commissioning, and trend data analysis experience.  She holds a Bachelor of Science in Chemical Engineering from Rose-Hulman Institute of Technology and an MBA from Kettering University. Previous employers include Leidos Engineering (formerly SAIC), ITT-Goulds Pumps, Honeywell, and Generac Grid Services. 
Emelie Cuppernell Glitch, Vice President of Program Services: As the VP of Program Services, and a HERS Rater, Emelie brings considerable industry understanding to PSD and their customers. As an Accredited HERS Provider, Training Provider, and Sampling Provider, Emelie supports 90+ Raters in 20 states, participating in EPA ENERGY STAR, Indoor airPLUS, FirstEnergy, NYSERDA, Mass Save®, EPA WaterSense, Wisconsin Focus on Energy, and other state-specific programs. Emelie is a Provider Representative on the RESNET Board of Directors, Vice Chair of the RESNET Standard Development Committee 900 for Quality Assurance and is past President of the Northeast Home Energy Ratings Alliance (NEHERSA). She oversees Rater education, training, communication, software, and modeling support, and delivers ENERGY STAR 3.0 and HERS Rater training. Emelie also served as manager of the Home Energy Rating and Disclosure (HERD) project in Tompkins County, NY, which created an implementation strategy for the deployment of a home energy rating and disclosure program. She holds a Bachelor of Applied and Computational Mathematics with a Concentration in Physics. 
Rich Andrulis, Vice President of Product Design & IT Services: Rich Andrulis is responsible for defining requirements, product design, and rollout of our software tools.  He is a key participant on the sales marketing planning team for our software-as-a-service (SaaS) applications. Rich leverages more than ten years of experience as a development architect at SAP to provide a structured methodology and standardized approach to providing input to both the development team and sales teams on product strategy and marketing. Rich Andrulis is responsible for defining requirements, product design, and rollout of our software tools.  He is a key participant on the sales marketing planning team for our software-as-a-service (SaaS) applications. Rich also served as a trainer at SAP, teaching courses in Java, object-oriented analysis and design, profitability analysis, and cost control. He has also taught courses in electrical engineering, mathematics, and physics courses at Cornell University, the University of Oklahoma, and West Chester University. Rich received a Ph.D. in Electrical Engineering from Cornell University and a BS in Engineering Science from Penn State. 
Nina Piccoli, Vice President of Product Delivery: Nina establishes and leads software development processes for the product delivery team and is a key player on the Product Management group for PSD's software solutions. Nina joined PSD from Ancient Wisdom Productions, where she served as Operations Director. Nina studied Applied Economics at Cornell University with a focus on entrepreneurship and marketing. She has served as a marketing and business plan development consultant for local organizations in a variety of industries and has mentored students in Cornell University's marketing and business planning courses.  
Andrew Dieck, Director of Program Strategy: Andrew Dieck serves as PSD's Director of Program Strategy, where he oversees the delivery of PSD's diverse QA services and portfolio-level energy efficiency implementation for multiple natural gas utilities. He previously held positions as Senior Manager of Residential New Construction for PSD and spent time as a Senior Energy Efficiency Program Manager at PECO, an Exelon Company. He holds degrees in English from Bard College and Temple University, where is currently pursuing an M.B.A, as well as a Certificate in DSM Program Management from AESP. 
Shane Bulick, Director of QA Services: Shane Bulick has an extensive background working in energy efficiency programs. As PSD's Director of QA Services, Shane supports a dynamic team that specializes in conducting Quality Control Inspections and providing building science training to weatherization professionals. He has worked in the energy efficiency industry for the last 14 years as HVAC Tech Support, Auditor, Auditor Supervisor, Senior Program Auditor, QA Field Manager, and QA Senior Field Manager. He is a BPI certified Energy Auditor and Quality Control Inspector. Before working in weatherization, Shane worked as a researcher at Oregon State University. Shane holds a bachelor's degree from Penn State University in physical and environmental geography focusing on statistical spatial data analysis. 
Zachary Writesel, Director, New Home Services: As Director of New Homes, Zac is responsible for leading PSD's New Homes Program Offerings and HERS Quality Assurance Provider Group. In addition to overall management and oversight of the New Homes Division, Zac is responsible for ensuring goal attainment for the varied Residential New Construction programs implemented by PSD across the country, as well as designing and managing pilot programs for state and utility stakeholders. He has over a decade of experience in the energy efficiency industry, having previously served as the Program Manager for Residential New Construction, Healthy Homes, and Income Qualified utility programs. Zac is a certified HERS Rater with a Management Information Systems Certification, Project Management Track, from Columbus State Community College. In 2020, he was a Leadership Ohio Fellowship awardee.
About PSD 
PSD is an energy efficiency services and technology company. We combine building science with technology to help utility companies, program implementers, and building performance professionals achieve tangible energy efficiency savings. We build products and deliver services that support energy efficiency improvements in buildings to achieve decarbonization using building science technology to ensure our planet for future generations.