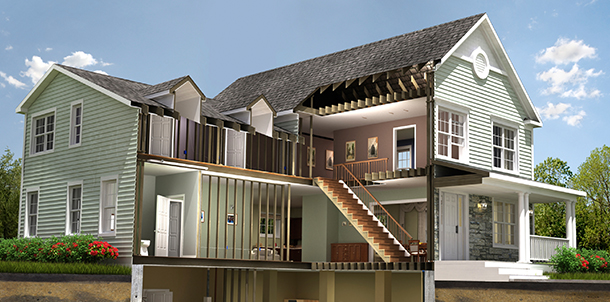 Read this article in the Ithaca Journal.
Tompkins officials seek efficiency ratings for homes
Much of Tompkins County housing stock is old and poorly insulated, according to Guillermo Metz, who is Cornell Cooperative Extension's green building and renewable energy program coordinator.
Though an energy-wasting home can bring significant financial strain, many homebuyers don't consider building efficiency before a purchase, Metz said.
"If (efficiency) is part of their equation, there's not (an) easy way to get that information," he added.
The towns of Ithaca, Caroline, Danby and Ulysses, along with the City of Ithaca, are attempting to address that need with their Residential Energy Score Project.
The initiative aims to eventually require building-efficiency ratings for home sales in the municipalities, project manager Emelie Cuppernell said.
"We would like to move toward a rating ordinance in the area, but it's very likely that it would start as a voluntary system and build toward a mandate at some point in time," she said.
A number of existing systems rank homes on energy efficiency, and project officials are considering which system fits the best for Tompkins County, Cuppernell said.
Reviewing a home's utility bill history before purchase is an ineffective way to estimate utility costs, she added.
"Utility bills tell you how much energy is being used by that home, but it doesn't tell you how much you will use if you live there or how much an average occupant might use there," Cuppernell said.
She expects the program to have an implementation plan by the end of the first quarter of 2016.
"Right now it's optional," she said. "But often with optional programs, you only get people rating homes if they have something to showcase."
Space heating and cooling account for more than 50 percent of a typical U.S. home's energy use, making it the largest energy expense for most homes, according to the Department of Energy.
Homeowners who are interested in building efficiency should get a free energy audit of their home through the New York State Energy Research and Development Authority, Metz said.
The audits are free for people who make less than 200 percent of the area's median income. A family of four that earns less than about $150,000 a year would qualify for a free audit, he said.
"We're wasting a whole lot of energy in our houses," he said. "It's a huge opportunity to reduce cost and waste."
Municipalities Launch Residential Energy Score Project #WeSpeakBuilding @NYSERDA http://t.co/4zSLXxUfSF pic.twitter.com/sdc33eQwY1

— We Speak Building (@WeSpeakBuilding) May 27, 2015