This quarter's Employee Spotlight is…
Zachary Crichlow – Software Delivery Manager – Software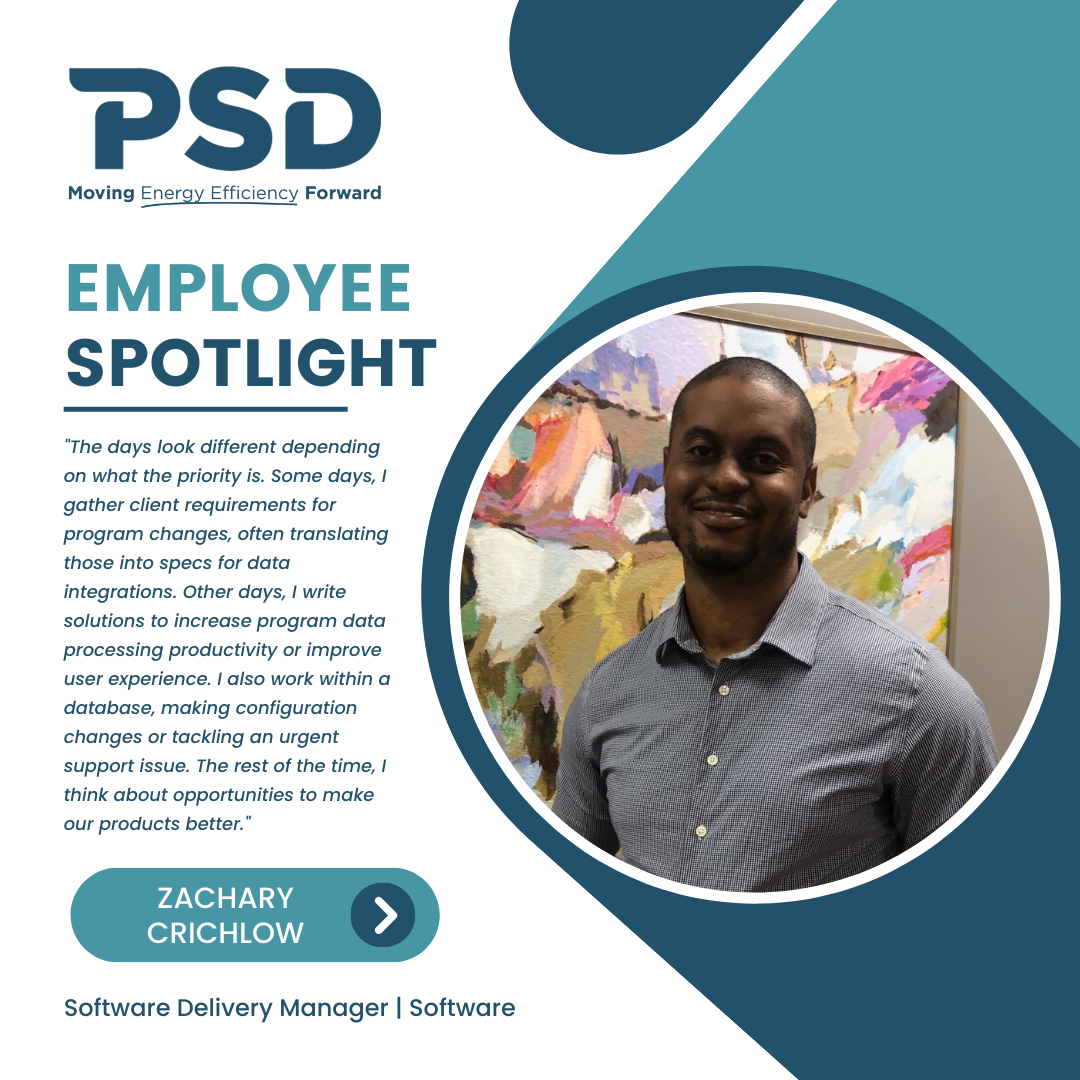 1. Where did you grow up? Where do you reside now?
I grew up in Trinidad before moving to South Jersey for middle school through college. After college I moved to West Philadelphia, where I currently reside.
2. What did you want to be when you grew up (when you were child)?
Early on, I remember wanting to be a pilot because we flew a few times to England and the US. At some point, I wanted to be a 'footballer' (soccer player) and play for the Trinidad & Tobago national team or Manchester United like Dwight Yorke did.
3. What guided you into the energy efficiency industry?
The energy efficiency industry found me. I was introduced to the industry after meeting someone at a local tech meetup. He took the time to discuss the many facets of the industry and the opportunities it presented.
4. What does a day in the life of Zach at PSD look like?
It is a balance of roles and responsibilities. The days look different depending on what the priority is. Some days, I gather client requirements for program changes, often translating those into specs for data integrations. Other days, I write solutions to increase program data processing productivity or improve user experience. I also work within a database, making configuration changes or tackling an urgent support issue. The rest of the time, I think about opportunities to make our products better.
5. What is your favorite PSD-related memory?
Only a handful of people will understand this. I brought the prized ribbon-cutting scissors (aka The Scissors) to Philadelphia from the Ithaca office, where they hung proudly on the office wall for months until a Philly office traitor moved it to another location to "keep the game going."
My second favorite memory was discovering that a decoy of The Scissors was produced and successfully duped a colleague into thinking he obtained the real thing.
6. What do you do when you aren't at work? Any interesting hobbies?
My top focus is my family, raising two young kids. I'm in between hobbies, looking forward to picking-up something new in the coming years; maybe I'll practice math.
7. Do you have any pets?
We have a betta fish named Blue Green. He is beautiful and blue. And green.
8. What is your favorite holiday?
Christmas, hosting breakfast at home and seeing our eldest child walk down the steps in her Santa pajamas, excited to see what is under the tree.
9. Favorite travel destination? Or dream travel destination?
Barbados.
10. Favorite musician/genre?
When I'm not listening to children's music, I tend to listen to metal loudly. Usually in my car. Specifically, Meshuggah, Car Bomb, and Gojira.
11. What's the top item that is still on your bucket list? Have you checked anything cool or fun off?
Top item is to write a bucket list.
12. What is an interesting thing about yourself that not a lot of people know?
I used to write screenplays.
Thank you, Zachary! We appreciate you taking the time to do this are excited to have people get to know a little more about our employees here at PSD.