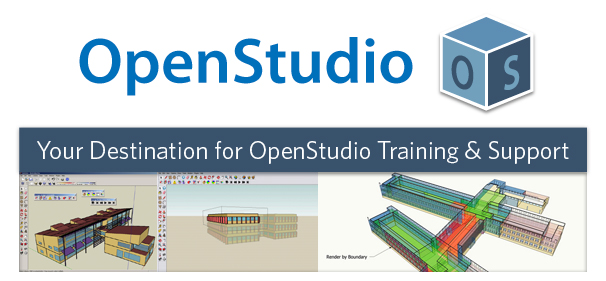 OpenStudio Support Services
NREL's OpenStudio platform for EnergyPlus is changing the way building professionals approach energy modeling – are you prepared for the shift? We offer a variety of OpenStudio support services to help you get there!
OpenStudio Component and Measure Development
"Components" represent definitions of reusable modeling element such as materials, constructions, lighting or plug load equipment. "Measures" represent modular blocks of reusable scripts which can modify an OpenStudio model by substituting components.
For Practitioners:  PSD can provide consulting services and assistance in developing custom OpenStudio components and measures designed to solve specific problems.
Custom OpenStudio measures
Custom EnergyPlus measures
Custom Reporting measures
For Manufactures:  Prepare your products for wide-scale use by the OpenStudio modeling community
Custom OpenStudio measures
Custom EnergyPlus measures
Custom Reporting Measures
Product Impact Analysis
OpenStudio API Assistance
PSD can provide consulting services for leveraging the Ruby programming language with the OpenStudio API to create custom applications for generating OpenStudio models.
Strategic OpenStudio Consulting
The articulation and management of complex models can, if not carefully considered, quickly become awkward and unwieldy. OpenStudio provides new and innovative ways to leverage model hierarchy so models can be more easily manipulated downstream. PSD can provide consulting services for determining optimal strategies for programmatically generating OpenStudio models with flexibility and ease of use.
Support for OpenStudio Deployment
Support for the deployment of OpenStudio within energy efficiency platforms and programs.
OpenStudio Training
Request a Training
Recorded OpenStudio Webinars
Demo – OpenStudio Applications and SketchUp Integration
Feb. 11th, 2014 – This demo will introduce you to the applications and plugins that make up the OpenStudio modeling ecosystem. Watch Chris click his way through the various features in OpenStudio.
---
Introduction to Energy Modeling with OpenStudio
Jan. 16th, 2014 – This high-level webinar will introduce you to the applications and plugins that make up the OpenStudio modeling ecosystem and teach you ways to leverage these applications to develop complex energy models and effective modeling workflows, apply crowd-sourced model components and improvements, and analyze models to identify design and improvement opportunities.
---
Demo – New Features in OpenStudio v1.3.0
May. 6th, 2014
**we apologize that the first 5 minutes have been clipped**
1) Support for modeling refrigeration systems:
OpenStudio 1.3.0 introduces drag, drop and configuration capabilities to model the energy use of common commercial refrigeration systems (e.g. display cases and walk in coolers), including cascading systems. While this is not unique, the ability to integrate the energy impacts of refrigeration systems into a building's heat balance at an adjustable sub-hourly time step provides tightly coupled feedback for estimating the interactions between energy systems.
2) Support for modeling VRF HVAC systems
OpenStudio provides drag, drop and configure capabilities for modeling VRF (Variable Flow Refrigerant) HVAC systems and controls of varying complexity. VRF systems can be configured to operate in either a 'heat pump' mode, (where the system operates in either heating or cooling mode) or in a heat recovery mode (where indoor units can recover and exchange heat with other indoor units operating in the opposite mode). In addition, the outdoor units can be configured to be air, water or evaporative cooled. User defined performance curves (generated from manufacturers published performance data) can now be used to describe equipment performance.
3) Support for modeling supply and return plenum configurations
Forced Air HVAC systems commonly use plenums for supplying and/or returning the conditioned air. This release of OpenStudio allows users to define and configure supply and return plenums that serve multiple conditioned zones. Plenums are considered unconditioned thermal zones and are composed of children OpenStudio spaces. The plenum zones can leverage OpenStudio's space type definitions for rapid object and property assignments.
4) Support for incorporating ASHRAE Advanced Energy Design Guides (AEDG) 50% measures
Thirty seven new OpenStudio measures from the ASHRAE K-2 and Small to Medium Office 50% AEDG have been added to the NREL BCL public measures library. These measures represent performance descriptions matching the published documents. As such, these measures contain the logic needed to easily & consistently transform OpenStudio models to evaluate potential savings from incorporating high-performance building and system components. Easy application (drag and drop) of these measure to YOUR models will be demonstrated.
---
Introduction to Energy Modeling with OpenStudio – FREE LIVE Demo (NYSERDA focused)
Jan. 16th, 2014
How OpenStudio can be used to support PON 1601 New Construction Program activities
Rapid creation and zoning of a building using the OpenStudio SketchUp plugin
Rapid assignment of components to the building using the Building Component Library, including ASHRAE 90.1-2007 performance standards
Using OpenStudio Measures to modify a building

NREL BCL Measure Library – Public Domain

OpenStudio Measures (ASHRAE Advanced Energy Design Guides)
EnergyPlus Measures
Reporting Period Measures

Customized Measures

Using the Parametric Analysis Tool to design and execute simulation studies, incorporating energy cost savings and LCCA feedback
Viewing output (summary and detailed)
Generating Reports
---
Discover New Features in OpenStudio v1.4.0
July 22nd, 2014 – This webinar recording demos the most exciting new features in OpenStudio v1.4.0. As a licensed OpenStudio training and support organization, PSD is offering this webinar to raise awareness of the potential power of OpenStudio. The webinar is led by PSD's Vice President of Research and Development, Chris Balbach.
---
What is OpenStudio?
Developed by NREL and the US Department of Energy, OpenStudio is a cross-platform (Windows, Mac, and Linux) collection of software tools to support whole building energy modeling using EnergyPlus and advanced daylight analysis using Radiance.  OpenStudio is an open source project to facilitate community development, extension, and private sector adoption. OpenStudio includes graphical interfaces along with a Software Development Kit (SDK).
SketchUp
What is SketchUp?
Trimble SketchUp (formerly known as Google SketchUp), is a 3D modeling program used in architectural design, civil and mechanical engineering, film, and video game design. A freeware version, Sketchup Make, and a paid version with additional functionality, Sketchup Pro are available.
There is an online repository of free-of-charge model assemblies (e.g., windows, doors, automobiles, etc.), 3D Warehouse, to which users may contribute models. The program includes drawing layout functionality, allows surface rendering in variable "styles", supports third-party "plug-in" programs hosted on a site called Extension Warehouse to provide other capabilities (e.g., near photo-realistic rendering), and enables placement of its models within Google Earth.