Our trainers have been there. They've crawled through damp basements and dusty attics, boiler rooms, and skyscraper roofs. They share this intimate knowledge of how buildings work in the courses they teach and consistently receive rave reviews from their students.
Our building science curriculum was one of the first in the US developed specifically to incorporate all aspects of becoming a whole house building performance contractor for existing housing stock, including diagnostic investigation, installation, remediation, as well as a full range of best practices. We deliver courses for beginners as well as advanced certifications. Our roster includes BPI, RESNET, AIA, EPA, IECC, software end-user classes, and advanced training that address the complexities of multifamily and commercial projects. To meet the diverse needs of this quickly growing industry, we offer courses delivered in classrooms, in the field, and through online webinars.
---
Training for Energy Codes
PSD has an extensive background in supporting states and regions with energy code training. Agencies and utilities that engage in new code adoption processes sponsor compliance and transition training for code officials, architects, builders, designers, and other professionals. Current energy code training offerings provided by PSD are listed below.
---
Training for Building Engineers
Our advanced classes are taught by our expert engineering staff and can be scheduled at your convenience.  If you are interested in one of these classes, please contact us at commercialtraining@psdconsulting.com.
OpenStudio Training
NREL's OpenStudio platform for EnergyPlus is changing how building professionals approach energy modeling – are you prepared for the shift? We offer a variety of OpenStudio support services to help you get there!
Energy Modeling using the OpenStudio Sketch-up Plugin and The OpenStudio Application
This 2-day hands-on course will teach students how to generate effective EnergyPlus models quickly and efficiently using the free NREL OpenStudio energy modeling ecosystem. Students will learn how to leverage effective modeling workflows by using Sketchup to construct building forms and fabric and assign space classifications and attributes. The OpenStudio application integrates with NREL's Building Component Library (BCL), providing easy methods for modifying energy models. Model variants can be configured to run in cloud environments (Amazon EC2). Students will also learn how to view summary and detailed output using the OpenStudio Results Manager.
---
Energy Model Articulation: Leveraging the OpenStudio API/SDK
This training is aimed at students interested in developing software interfaces for EnergyPlus, Radiance, and other tools using the OpenStudio API/SDK. The hands-on training teaches students how to programmatically access the OpenStudio software interface to create and modify building energy models using the Ruby programming language.  The class format consists of a series of exercises beginning with creating and saving a new model, then reading the results data, and making modifications using OpenStudio Measures. Methods, classes, and class extensions are covered in great detail.
Required Prerequisites: A thorough understanding of the EnergyPlus object model and a basic understanding of programming using scripting languages is required.
---
Certified Measurement & Verification Professional (CMVP) Training
This course will prepare you to become part of an elite group of Certified Measurement & Verification Professional engineers.  As a CMVP, you will serve as a key catalyst for energy-efficient retrofits by helping building owners and financiers manage risk and have confidence in the forecasted return on investment.  In this course, you'll learn how to develop and implement Performance Risk Management Plans, and address the six fundamental M&V principles defined by the Efficiency Valuation Organization's International Performance Measurement and Verification Protocol (IPMVP).
Note: To be eligible for the CMVP certification, you must complete and submit an application to AEE.
---
Basic Measurement & Verification Training
The purpose of measurement and verification (M&V) is to establish the potential of a project's measures to save demand and energy and to determine the actual savings produced by those measures. Through presentation and discussion, this course exposes participants to the fundamental principles needed to produce quality M&V. The four IPMVP Options for reporting savings are presented, as well as real-world examples of each. For each option, participants will gain an understanding and appreciation for the principles of good M&V – Accurate, Complete, Consistent, Relevant, and Transparent. This course does NOT lead to Certified Measurement & Verification Professional (CMVP) certification.
---
Certified Building Energy Simulation Analyst (BESA) Training
This three-day instructional program is designed to provide the specific training and background needed by professionals preparing to sit for the Association of Energy Engineers (AEE) Building Energy Simulation Analyst (BESA) certification examination. Attendees will gain a clear, in-depth understanding of the theory and practice of computerized building energy modeling, and will conduct hands-on energy simulation exercises using eQUEST® software. PSD is one of only two organizations approved by AEE to offer this training for individuals with expertise in using modeling software. The BESA exam will be administered at the close of instruction on day three of each seminar — only to those who have qualified in advance to sit for the exam by submitting a completed BESA application and fee.
---
Benchmarking
This course is designed to help participants better understand how commercial sector performance benchmarking tools such as EPA's Portfolio Manager (and optionally other tools including PSD's Building Performance Compass) function and can be used. The course begins by covering sector-wide historical energy performance indicators for key commercial building segments. Next, participants will learn how Portfolio Manager rating models are developed and extensively used. Important Portfolio Manager concepts such as data sharing and access privileges are discussed in detail. Participants are led through hands-on examples of Portfolio Manager Ratings using data from regional buildings to reinforce the concepts covered. Finally, advanced benchmarking concepts for non-energy performance such as water, indoor environmental quality, acoustics, and thermal comfort are discussed.
---
Commercial Assessments
An energy analyst armed with both a strong understanding of the fundamental principles behind energy usage and an understanding of how to systematically perform field assessments of lighting, HVAC and motors can quickly begin adding value to their firm's business. Uniquely designed and adapted to local building types, this course combines morning classroom presentations with afternoon 'hands-on' field assessments of real-world energy conservation scenarios. Throughout this course (up to a week in overall duration) students will actively engage in developing credible and defendable energy savings estimates, and learn to present them in easy-to-understand formats.
---
Basic Modeling and Simulation Training
It is generally accepted that using whole-building energy modeling tools represents the best-in-class approach for estimating energy savings associated with deep retrofits. This course, designed for practitioners with little energy modeling experience, covers the fundamentals of general energy modeling tools. An agonistic software course, students completing this course will develop a sense of how/when/why, and where energy simulation could best be used as a problem-solving tool. The course includes demonstrations of several different simulation/modeling tools. It discusses in depth the pros and cons of non-simulation modeling methods such as custom spreadsheets, measure-specific spreadsheets, and calculators.
---
Advanced Modeling/Simulation Training (eQuest)
Designed around the eQUEST energy simulation tool, this course leads practitioners through eQUEST examples of advanced modeling topics such as modeling complex control strategies, developing custom performance curves to represent existing mechanical equipment, modeling complex utility tariff structures, and configuring the energy model as a reporting device to assist in M&V (measurement and verification) activities. This course requires prior modeling experience using eQUEST. Interested?
---
Download our commercial and multifamily training brochure. Commercial Training Brochure
---
Training for TREAT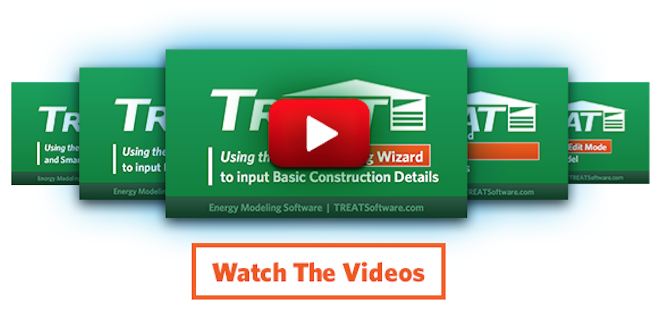 ---
Training for Raters and Providers
Rater Webinar Series
This is a class in our monthly educational webinar series for raters. These webinars will generally take place on the fourth Thursday of each month and consist of one hour of presentation and question and answer on topics relevant to HERS Raters. The webinars will be hosted by the PSD Provider Team. 
Cost per class:
Free for PSD Rater Members
$29/class for non-members
---
Energy Star 3.0 Online Training
This training will cover the new requirements of ENERGY STAR for the New Homes version 3 program. The training will include an ENERGY STAR v3 Overview, Thermal Enclosure Rater Checklist, HVAC Quality Installation Rater Checklist, Water Management Builder Checklist, and question-answer sessions. At the conclusion of the training, each participant will take an online test to qualify for the completion certificate. This training is approved for 18 hours of RESNET Professional Development Credits and 4 BPI continuing education credits.
---
HERS Energy Rater Training (RESNET certification)
---
Training for Energy Contractors
ENERGY STAR HVAC Contractor Training
To be eligible to install HVAC equipment in ENERGY STAR certified homes, HVAC contractors are now required to be credentialed through an EPA-recognized independent, third-party organization.
Please join us for orientation and technical training where we will provide you with the proper level of training on the ENERGY STAR program, the QAP program, and the technical aspects of HVAC needed to perform quality design, installation, and start-up functions on ENERGY STAR Certified New Homes program jobs. The course is designed to increase your compliance with ENERGY STAR V3 through a robust QC/QA process. This course was created to instruct you on what ENERGY STAR V3 is requiring, how to fill out the HVAC System QI Checklist, and how to participate in the QAP program.
---
Building Analyst Training (BPI Certification)
The key to energy-efficient building performance is in understanding the integrated systems in a building that are responsible for the transfer and use of energy, moisture transport, and air movement. This training is intended for anyone who would like to conduct diagnostic energy audits on existing housing stock, including measurement and verification services related to building analysis. This course is a carefully crafted balance of classroom presentations, field exercises, and self-study materials. Theory and practice are integrated with an emphasis on practical problem-solving – culminating in Building Analyst (BA1) certification through the Building Performance Institute.
---
Multi-Family Building Analyst Training (BPI Certification)
The key to energy efficiency in a multi-family building is understanding the integrated system components, and the physics that drive them. This training is geared towards preparing you for the Multi-Family Building Analyst (MFBA) certification exam – with the ultimate goal of optimizing building performance for energy efficiency. The topics will focus the participants on conducting diagnostic energy assessments for multi-family buildings with more than 4 units. This course is a carefully crafted series of classroom presentations, with an emphasis on practical problem-solving. Course registration includes all fees to the Building Performance Institute. Field mentoring is an additional cost and will be scheduled separately.
…Chris was great. He clearly had a very good mastery of the software. I don't think there was a single question we threw at him that he couldn't answer. He's very knowledgeable about field work, primary data gathering, and discussing pitfalls and best practices. Chris was very good at listening to questions and helping people along through the technical stuff as we went. He definitely has very good patience.

Deputy Director NYCHA's Energy Finance and Sustainability Management Department

The instructor was outstanding, and kept the class engaged the whole time. He made the class fun.

Thank you so much for making this excellent opportunity available to me. Alex Lovallo was an exceptionally knowledgeable and well-prepared instructor. The materials were organized in step by step presentations that were easy to follow and provided much information. Making the workshop materials available to us after the webinar is a most appreciated gesture. I went into the training with great trepidation, and I have come out four days later with significant confidence that I can handle TREAT input. situations.

Apex Engineering, P.C.

The instructor's knowledge, coupled with his friendly and approachable demeanor, was one of the best things about this training.