Pennsylvania's exemption for legacy projects expired on August 14, 2022, meaning that all building projects must now comply with the 2018 International Energy Conservation Code (IECC).
To assist code officials, design professionals, energy professionals, and others, PSD has contracted with the Pennsylvania Department of Environmental Protection (DEP) to deliver energy code training throughout the Commonwealth.
Join our mailing list to stay up to date on upcoming training offerings delivered in your area and online.
Please contact Jim Pisani for questions or if your are interested in hosting training at (215) 360-6803 or  jpisani@psdconsulting.com.
View Full Event Calendar
View Course Descriptions
---
Energy Code Training
Overview
PSD is offering prescheduled training events that are open to the public and we are seeking code official and industry associations who are interested in hosting an event for their organization.
Course Offerings:
PSD is an approved AIA, BPI, NARI, ICC, and PA UCC Continuing Education Provider.
Host organizations may include, but are not limited to, HBAs, ICC chapters, AIA chapters, ASHI chapters, and NARI chapters.
Individuals – Click here to view pre-scheduled events 
Organizations – Click here for information on scheduling an event for your group 
Trainer Biographies
Mike Turns, Director of Energy Code Services
Mike has been with PSD for over eight years, managing several residential new construction and energy code support programs. Currently, Mike manages the implementation of the MassSave® Codes and Standards Compliance and Support Initiative, New York energy code training funded by NYSERDA, and energy code support services to the Delaware Department of Natural Resources and Environmental Control. Before that, Mike led the DOE-funded Pennsylvania Residential Energy Code Field Study. He is an expert in the International Energy Conservation Code and has developed and taught numerous training programs in several states under a variety of code versions. He has over 15 years of energy code training experience and has presented at national conferences like the RESNET, HPC, the DOE Energy Codes Conference, and AESP. Prior to joining PSD, he was the Associate Director of the Pennsylvania Housing Research Center (PHRC) at Penn State University, where he managed the largest provider of residential building code training in Pennsylvania. Mike has a master's degree from Penn State with a thesis focused on assessing and reducing energy consumption in new homes.
Adam Smith, Energy Code Specialist
Adam has over two decades of experience in the facilities and project management field, including full oversight and completion of large construction capital projects. Most recently, he worked for Camphill Ghent, a Gold LEED certified retirement community in the Hudson Valley, where he supervised all facilities and grounds projects and wastewater treatment plant, ensuring compliance with NYS Department of Health, NYS Department of Environmental Conservation and local building codes. Adam has served in the volunteer fire department for over 30 years, most recently at Ghent Fire Department, holding the office of First Lieutenant.
This training and/or document is provided through support and funding from the U.S. Department of Energy's State Energy Program and the Pennsylvania Department of Environmental Protection.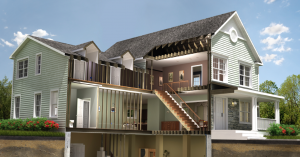 "The online class was wonderful! It was short, simple and informative. Looking forward to attend your other classes!"

"Your presentations are some of the best I have seen in a long time, well done."

"It's not easy to keep a webinar about codes interesting and engaging. Well played. Thank you"

"Explained topics well, and subjects were well supported by slides."

"Thank you for providing these energy code trainings free to code officials.  Energy code trainings are the most tedious of the mandatory trainings, but your presenters do a good job of providing the information in a way that is interesting and holds your attention."