Pennsylvania adopted the 2018 International Energy Conservation Code (IECC) statewide on February 14, 2022. Shortly thereafter, PSD launched a new energy code training series funded by the Pennsylvania Department of Environmental Protection (DEP). Training topics include 2018 IECC updates, remote virtual inspections (RVI), and duct and envelope testing. Please scroll down for more information.
Please contact Jim Pisani for questions or training assistance at (215) 360-6803 or  jpisani@psdconsulting.com.
View Full Event Calendar
View Course Descriptions
---
Trainer Biographies
Mike Turns, Director of Energy Code Services
Mike has been with PSD for over eight years, managing several residential new construction and energy code support programs. Currently, Mike manages the implementation of the MassSave® Codes and Standards Compliance and Support Initiative, New York energy code training funded by NYSERDA, and energy code support services to the Delaware Department of Natural Resources and Environmental Control. Before that, Mike led the DOE-funded Pennsylvania Residential Energy Code Field Study. He is an expert in the International Energy Conservation Code and has developed and taught numerous training programs in several states under a variety of code versions. He has over 15 years of energy code training experience and has presented at national conferences like the RESNET, HPC, the DOE Energy Codes Conference, and AESP. Prior to joining PSD, he was the Associate Director of the Pennsylvania Housing Research Center (PHRC) at Penn State University, where he managed the largest provider of residential building code training in Pennsylvania. Mike has a master's degree from Penn State with a thesis focused on assessing and reducing energy consumption in new homes.
This training and/or document is provided through support and funding from the U.S. Department of Energy's State Energy Program and the Pennsylvania Department of Environmental Protection.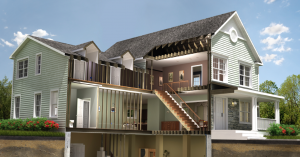 "The online class was wonderful! It was short, simple and informative. Looking forward to attend your other classes!"

"Your presentations are some of the best I have seen in a long time, well done."

"It's not easy to keep a webinar about codes interesting and engaging. Well played. Thank you"

"Explained topics well, and subjects were well supported by slides."

"Thank you for providing these energy code trainings free to code officials.  Energy code trainings are the most tedious of the mandatory trainings, but your presenters do a good job of providing the information in a way that is interesting and holds your attention."