Thank you for your interest in TREAT
To download a free 30-day trial, complete and submit the form below. This trial version will run in a limited demo mode for 30 days. To unlock all of TREAT features, you will need to purchase a treat license.
Download  Buy TREAT License  I'm Upgrading TREAT
TREAT Hardware Requirements
Disk space: 2 GB
Windows Operating System: Windows XP, 7, 8, and Windows 10
Pointing device (i.e. touch screen devices are not supported)
Version History Notes
Version 3.5.1 Features:
Sort Visual Inspection Improvements alphabetically on the Home Performance Report
TREAT BAS Calcs are now visible in the model inspector
Set Default Financial Terms in the TREAT Preferences.
We've added new LED lighting options in the lighting library!
Version 3.5.1 HPXML Changes:
Support for Dehumidifiers
ECM Motor Savings are combined with heat plant improvements (NYSERDA Requirement)
Version 3.5 Features:
Air handler motors added to appliance library
Cape cod attic support in building wizard and in HPXML export
Calculator for average efficiency of multiple cooling systems
Version 3.5 HPXML Changes:
Fix return duct areas
Fix problem with unknown foundation types
Version 3.4.7.5 HPXML Updates:
Fix Year Manufactured sometimes 0 when left blank
Fix fluorescent tube translation
Split attics so each attic surface is represented by its own attic
Changes in 3.4.7 (NYSERDA Approved for HPXML):
Reports with implicit base building data cannot be run unless base building has valid calculations
Fixed bug where improved window UValue could overwrite base value
Scroll wheel no longer crashes in measurement/inspection wizards
Fixed some crashes when applying distribution defaults
Hydronic Distribution Systems now default with the correct piping area.
Inspections and measurements are now connected explicitly to an assembly (either the base building or a package) and do not rely on dates matching.
Inspection and measurement wizards default to no inspections or measurements selected.
HPXML 2.1 Changes:
HPXML 2.1 – NYSERDA report added with NYSERDA specific changes

Appliance Manufacturer, Model, Year, included in output
Changed logic determining fan whole building ventilation status
Window area is now total window area for the node
Lighting with 'fluorescent' in the description that is not otherwise categorized is assumed to be CFL
Added spaces and associated walls with spaces
Fixed invalid HPXML resulting from combinations of attics and cathedral ceilings
Low Flow improvements now only replace showers if shower fraction or flow rate has been changed; similar for faucets
Improved detection of basements – conditioned spaces with only short walls adjacent to ground will not be detected as basements.
New distributions installed with new HVAC systems are not included as InstalledComponents
Shower nodes always have FuacetAerator node with a value of false
Adjusted insulation installation types to align more closely with NYSERDA guidelines
Include HousePressure node for air infiltration even when leakage is specified as ACH
Don't include AtticFloorInsulation if there are no improvements that affect that AtticFloorInsulation.  Same for AtticRoofInsulation
Changes in 3.4.6 (NYSERDA Approved for New Workflow):
***Ability to specify attached on one or two sides in house type drop down
Room AC efficiencies should be entered as EER
HPXML Translation Improvements and Fixes
Added siding and radiant barrier inputs under advanced surface properties
Restored NY Home Performance Report
HPXML Translation Improvements and Fixes
Allow multiple visual inspections/measurements of type 'other'
Changes in 3.4.5:
Cooling system improvements default to reuse existing distributions
Adjusted visual inspection library
***Renamed Improvement Packages report to Package Cost by Improvement
Additional data displayed in Energy Savings Summary Report
Third party certifications for windows and doors
Movable R value, screening and external shading for windows available in custom properties screen
Third party certifications for HVAC and DHW
*** Changed the way TREAT handles HVAC improvements – it is now possible to correctly model a heating plant upgrade, cooling plant upgrade and distribution insulation in one package.
***A new utility bill import spreadsheet is included with more functionality
Improvements to the daily weather import spreadsheet
Changed default analysis period to better capture a whole year of data
Renamed default package implementation types
Enhancements to HPXML 2.1 export
HPXML 2.0 and 1.1.1 reports no longer present on new installs
Changes in 3.4.4:
Added usage and base usage tables to Energy Saving Summary report
Updated Weather Import spreadsheet
Collect Window Screening type
Storm door and window screening in HPXML (2.0 & 2.1)
Changes in 3.4.3:
New daily weather download spreadsheet supporting > 2000 weather sites
Package Improvements report available in reporting menu
Inspections and measurements:

A list of dates is available in the wizard and edit screens to allow quick access to audit and package dates
Each inspection or measurement must be unique for a given date

Added Temperature Initiated Shower Flow Valves to Water Fixture Details. These are for reporting only and do not affect energy modeling.
Appliances can now be marked as 'Exterior' matching the behavior for lighting.
Use ASHRAE 62.2 based algorithm for converting from ACH to CFM50
Calculate and display building airflow standard in homeowner report
Default cooling latent load can be set in preferences
Updated defaults for ducted distribution systems
Updated defaults for DHW fixtures
Model and manufacturer can be collected on heating, cooling and DHW plants
Updated utility billing import spreadsheet
Added two typical pool pump appliances to appliance library
Model and manufacturer can be collected on appliances
Detailed data collection for pool pumps. Details are for reporting only and do not affect energy modeling.
Energy Savings Summary report
HPXML – New version 2.1 export with :

Improved surface insulation descriptions
BPI2400 Information
Window SHGC
Pool pumps
CFL lighting type

Health and safety now present on non-audit packages as well as audit. Health and safety measurements and inspections are associated with a package based on date.
Temperature initiated shower flow valves
Note to New York Users
The New York Home Performance Report has been updated and moved. To access this report select "Select Reports" on the left navigation bar in TREAT. Click on the "Sales Tools/Customer Engagement" reports and select "Home Performance Report" to access this newly stylized report. Please note that the base building and improvement packages need to be calculated first in order to run the report.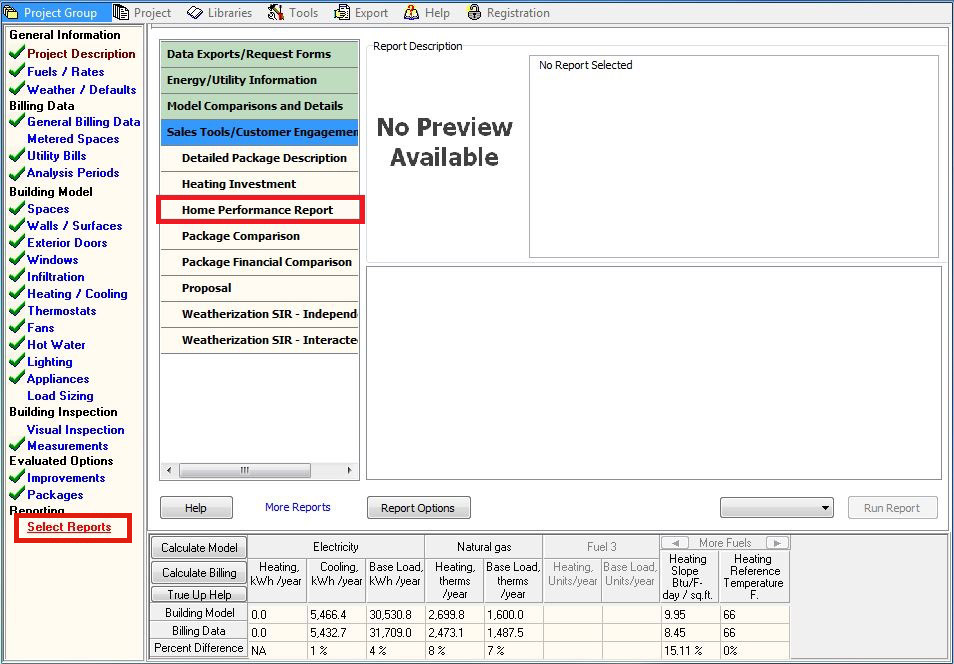 TREAT HPXML Program Reporting Guidelines
This document lists all of the required non-energy modeling related inputs required for TREAT files to be submitted to state programs including New York Home Performance with Energy Star and California Energy Upgrade California: Home Energy Upgrade. When modeling for these programs please be sure to follow the guidelines attached above.